Dabeinong was listed on the "IR Interactive Activity List of Listed Companies in 2018"
Source: Author: Date: July 18, 2019
Recently, at the "Embracing the New Era of IR-The First China Listed Company Investor Relations Summit" hosted by Panoramic Network Co., Ltd., a subsidiary of the People's Daily, Dabeinong Group was selected as the "2018 A-share Listed Company's IR Interactive Activity List The "listed enterprises" became the only agricultural enterprise on the list under the jurisdiction of the Beijing Securities Regulatory Commission.
A total of 350 listed companies were selected in the "2018 Listed Companies' IR Interactive Activity List". The list is calculated based on weighted comprehensive calculations based on the latest letter of the listed company on the stock exchange, the quality level of the investor, the level of protection of investor rights, the density of investor interaction questions and answers, and the activity of investor relations activities. The list is based on the jurisdiction of the CSRC, and selects the top ranked companies that account for about 10% of the total number of listed companies in each jurisdiction. Dabeinong Group was successfully shortlisted, representing investor relations work at an active level in the jurisdiction of this Securities Regulatory Commission.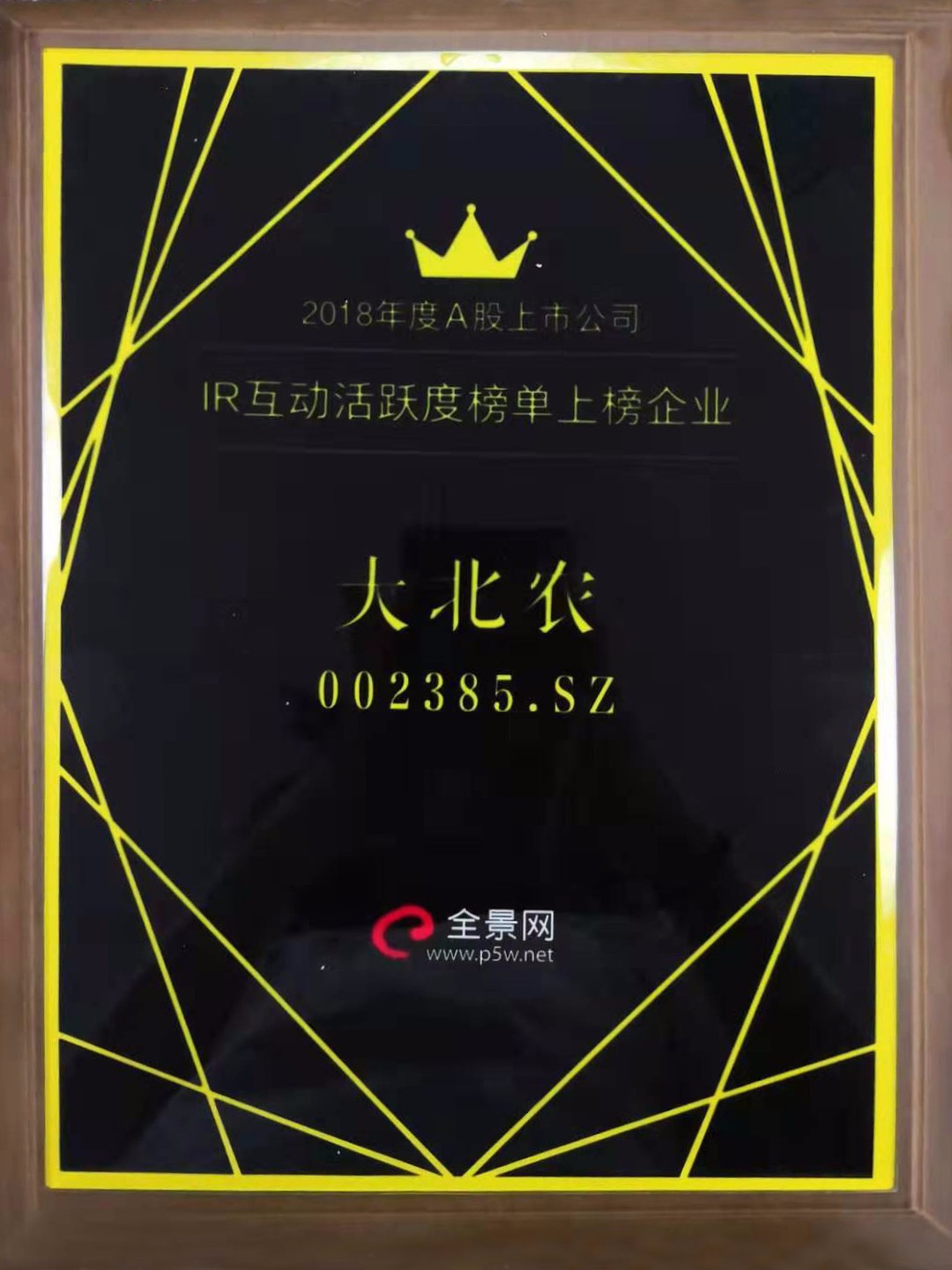 As an A-share listed company in the agricultural industry, Da Bei Nong attaches great importance to investor relations management. Guided by the corporate philosophy of "Dedicating to the society and a strong country," since its listing in 2010, Dabeinong has always adhered to discipline and law, operated with integrity, valued corporate governance, and paid attention to shareholder returns. In terms of information disclosure, the disclosure of financial report data is honest and detailed, and the analysis is objective and realistic, so that the company's investment value is deeply rooted in the hearts of the people.
Private enterprises are an important part of the socialist market economy, they are also practitioners and witnesses of reform and opening up, and they have made important contributions to the national economy and social development. As a local outstanding private enterprise, Dabeinong Group always regards serving the country as the company's faith, increasing research and development courage and innovation, and consolidating quality and fine services. While developing itself, it creates good and stable investment returns for investors and promotes Chinese agriculture contributes to the development of large-scale, industrialization and ecology.